Personal finances can be tough to manage, we know that. After all, we work to live, not live to work, so, when we get paychecks, we're prone to spending our hard earned money on things that satisfy us — albeit, not always wisely — whether that's for social reasons, on bills, for student loans or otherwise.
While it feels good to spend money on things we want, when the old bank account starts looking a little too lean, it might be time to take a step back and try a few temporary tips. But, finding the right balance so not to sacrifice quality of life is key.
There's nothing wrong with rewarding yourself every now and then for an extra long week at work or splurging on a Sunday Funday brunch with friends. But it's easy for carefree spending to get out of hand, leaving you short on money for basic life necessities. If this sounds like you, it's a good time to consider a financial fast.
Financial fasting is just what it sounds like — giving up spending for a limited amount of time. Think of it as a money management reset, a moment to reflect on your spending habits and what you can actually live without.
It sounds like a great exercise, but it sure can be a lot harder than anticipated. To get you over the hump of limiting your funds, we've rounded up realistic ways to cut your spending and start saving, getting those personal finances in check.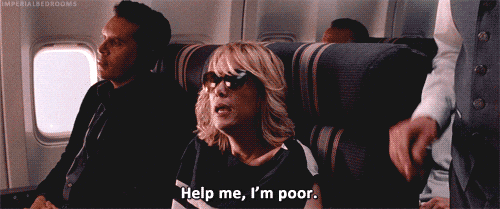 Start Small
To take the intimidation factor out of a financial fast, start small and make a pact with yourself to limit your spending for about three weeks. A shorter amount of time doesn't seem as daunting and gives you enough time to establish smarter spending habits!
Keep Entertainment in Your Budget
Just because you're fasting, doesn't mean you still can't have fun. Make sure you set aside a little fun money to do things like watch a movie out or gab a meal, but, once the money is gone, you'll have to find fun (and free) ways to socialize and be entertained during your fast.
Log Your Savings
It's fun to see your money accumulate. To make your fast more fun, keep note on all the things you're able to give up and what they cost, like all of those unnecessary monthly expenses. You'll see the savings soar, making you feel amazing and excited for a fresh start to your finances!
Cut Spending Along The Way
Schedule more things to give up as the fast goes on. The first day might be your normal morning coffee shop run, the next day, cut the coffee and bring your lunch from home instead of eating out and so on. Soon you'll have saved so much, you'll be kicking yourself for not fasting sooner!
Shop Smart
When stocking up on food for the week, try to plan meals that can stretch into two. Only put things in your basket you will use for more than one meal. Fresh produce, protein and freezer items are all things to have on hand to mix and match throughout the week.
Get Ready For Your Reward
Financial fasting is great for your finances, but being rewarded for your sacrifice is kind of in order… don't you think?! Decide on something you'd like to treat yourself to at the end of your fast. Whether it be a new addition to your wardrobe or a fancy dinner out, go for it! No guilt necessary.
Lead image via Getty