The LeBron James free agency saga is something that everyone in the sports world is monitoring, as James, the biggest superstar in the NBA, will have his choice of any team he wants next season once he, presumably, hits the open market on July 1. But, just because any franchise would bend over backwards in order to add LeBron James to their roster — any continue to make him one of the highest-paid athletes on the planet — doesn't mean he has interest in just joining any team.
James has openly said that his decision will come down to two big factors: family and winning. Assuming those are the most important things to him, LeBron James' suitors for next season have to put him in the best position to compete for championships.
This will be the third time in his legendary career that "The King" will be in a position to drastically alter the landscape of the NBA. LeBon James' free agency has yet to officially happen — he needs to decide if he picks up or declines a  player option with the Cleveland Cavaliers for next season. Nevertheless, James' future home continues to dominate headlines all over the country, and the sportsbooks in Las Vegas have a few NBA teams who they think have the best odds to land the future Hall of Famer.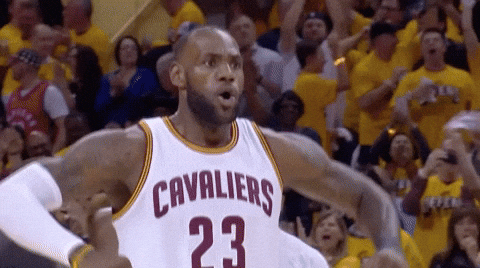 As history has proven time and time again, the oddsmakers in Vegas tend to have a pretty good idea as to how these types of situations are going to play out. With that being said, here's a look at the teams with the best chance at landing LeBron James, as of June 18, 2018, courtesy of BetOnline via OddsShark.
Golden State Warriors: +5000 (50-1)
For the sake of the league's competitive balance, fans should hope that LeBron Jame's free agency decision does not lead him to the Golden State Warriors. Fortunately, for hoops fans, it would be virtually impossible for the Warrios to sign James to a max deal while still keeping their current core of Stephen Curry, Kevin Durant, Klay Thompson and Draymond Green in tact.
Miami Heat: +3300 (33-1)
To be perfectly honest, it was surprising to see the Miami Heat come in this high on the list of potential suitors for LeBron James. Miami would likely have to land Paul George and/or Kawhi Leonard to have any sort of shot at a reunion with James, but, hey, anything is possible.
Los Angeles Clippers: +2500 (25-1)
Simply put: the only reason the Los Angeles Clippers are on this list is because of the belief that James wants to move his family to Los Angeles to pursue a career in entertainment. LeBron has always been bigger than just basketball — as his supporting role in the movie Trainwreck proved — so oddsmakers think the aura of Los Angeles, even if it's the Clippers, is a possibility.
San Antonio Spurs: +1600 (16-1)
From purely a basketball perspective, the San Antonio Spurs would be a great fit for LeBron James. Pairing the 14-time All-Star with iconic head coach Gregg Popovich could be truly special. Unfortunately, James will likely be looking to join a more talented team in a larger media market.
Houston Rockets: +800 (8-1)
If the Rockets can find a way to clear enough salary cap space to sign James, they will likely have a legitimate chance at landing the 33-year-old small forward. For LeBron James' free agency decision to be Houston, the team will first have to convince Chris Paul, who is a close friend to James, to stay in Houston as well.
When it comes down to it, the Rockets may be James' best chance at competing with the Warriors.
Boston Celtics: +700 (7-1)
This scenario would be very, very interesting. In addition to trading for Kyrie Irving (James' former partner in crime in Cleveland) last offseason, the Boston Celtics also have an outstanding young core group to build around. On top of that, Brad Stevens is widely considered to be the best young coach in the game.
Cleveland Cavaliers: +500 (5-1)
At this point in time, it's hard to imagine LeBron James returning to Cleveland next season. It's no secret that his supporting cast was less than stellar — especially during the postseason — and the harsh reality of the situation is that the Cavs simply don't have the draft capital or salary cap space to build a team that can compete for championships. For this to happen, Cleveland will have to pull off a miracle-type of roster rebuild.
Philadelphia 76ers: +450 (9-2)
Out of every potential landing spot for The King, the Philadelphia 76ers may be the most intriguing. The Sixers are loaded with rising superstar-caliber talent; James views point guard Ben Simmons as a little brother; and, most importantly, signing with the 76ers and staying in the Eastern Conference would allow for a much easier path to reach the NBA Finals.
Los Angeles Lakers: -150 (wager $150 to win $100)
As of today, the Los Angeles Lakers are the heavy favorites to be the winner of the LeBron James free agency decision. And, on paper, it's easy to see why. The Lakers are one of the most iconic franchises in professional sports; living and playing in Los Angeles would provide James, his family and his entourage countless opportunities off the court; and the Lakers have the most salary cap space in the league. If James ultimately chooses the Lakers, it will dramatically shift the balance of power in the Western Conference.
Lead image via YouTube